Most advisors tend to offer similar services to one another, which can create the impression that all advisors are the same.
But it's an accepted fact for anyone who works in financial services that the opposite is actually true—every advisor can be very different in how they approach investing, financial planning, and working with clients. 
That uniqueness extends to how advisors like to create and review portfolio information with clients, and we've developed the Kwanti platform to accommodate the customization you like to bring into your relationships.
When you're ready to take the analytics out of Kwanti and present your recommendations to your clients, our reports can be an easy way to get your client focused during conversations about their investment strategy. 
Here are a few ways you can customize your Kwanti reports to fit your firm's brand and what you want to review with clients. 
Getting Started with Custom Kwanti Reports
Creating a report is as simple as clicking a button. 
While viewing any portfolio, select PDF from the top menu to launch into the custom reporting engine.

Once you've launched a report, you can customize its content and style to fit your firm's needs and what you want to discuss with a client. 
By default, our most-used report sections will display but you can reorder pages or remove pages entirely simply by hovering over them in the Pages section on the left-hand side.
If you need a section that's not there, click Add Content to add additional sections like Top Holdings, Correlation, and Bond Styles.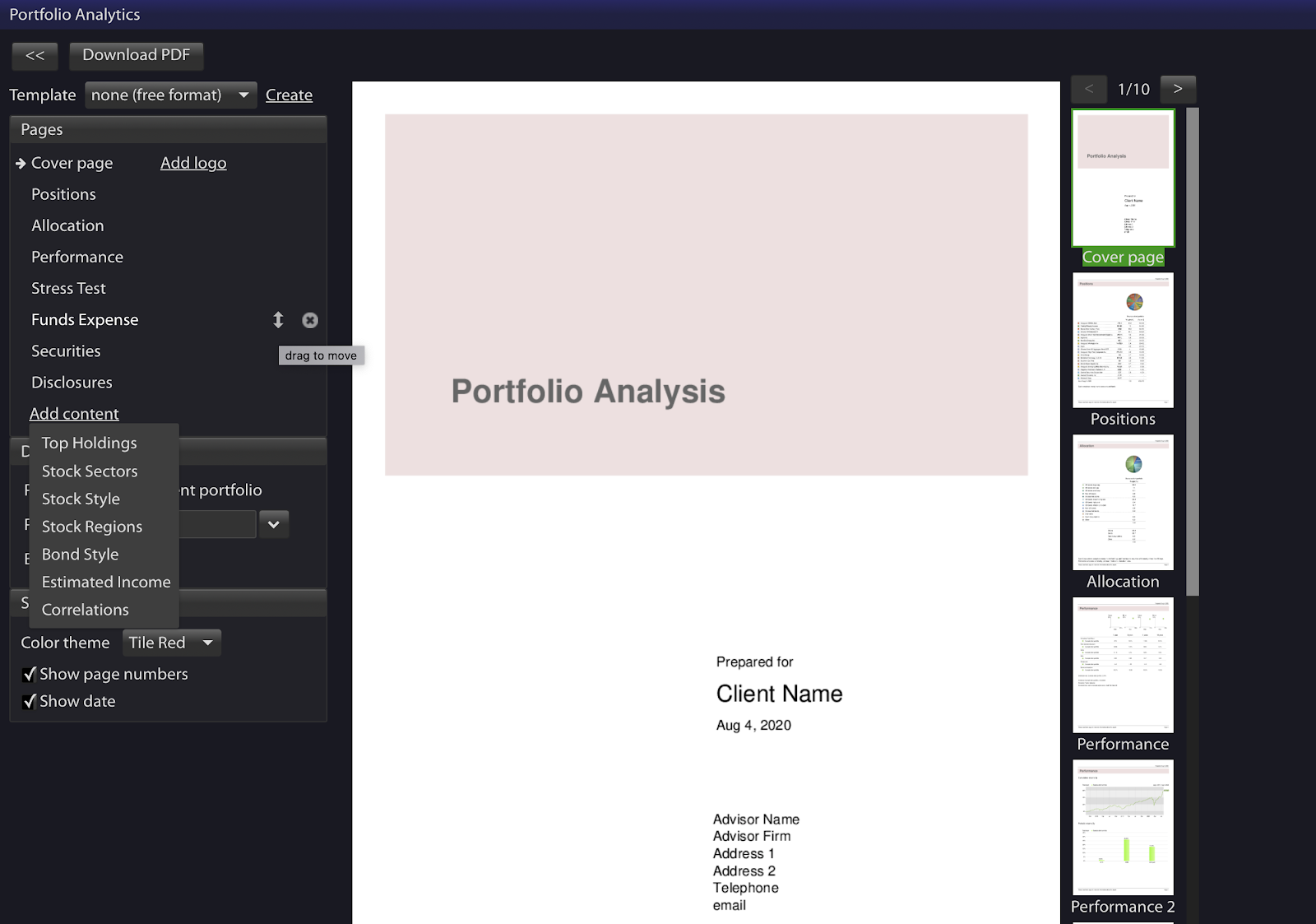 Throughout your reports, you'll be able to dynamically click inside of sections on each page to make edits. Tailor your cover page to the specific advisor who will be presenting, or hover over your Top Holdings to change the number of assets to display, and whether to keep the information high-level or display which funds hold a specific security for a deeper level of analysis in your next meeting.
Creating Dynamic Proposals to Close New Business
Kwanti reports allow you much more flexibility than client presentations. You can also use them to enhance your proposal for prospects as well.
Turning an analytics report into a proposal that compares your proposed portfolio against a prospect's current setup is simple. Here's how you can create proposals in no time.
Under the Data section, add a second portfolio as Portfolio B. The report will dynamically update to show both side by side, allowing you to easily show a visual of the benefits you can provide by moving the prospect into your recommended investment strategy.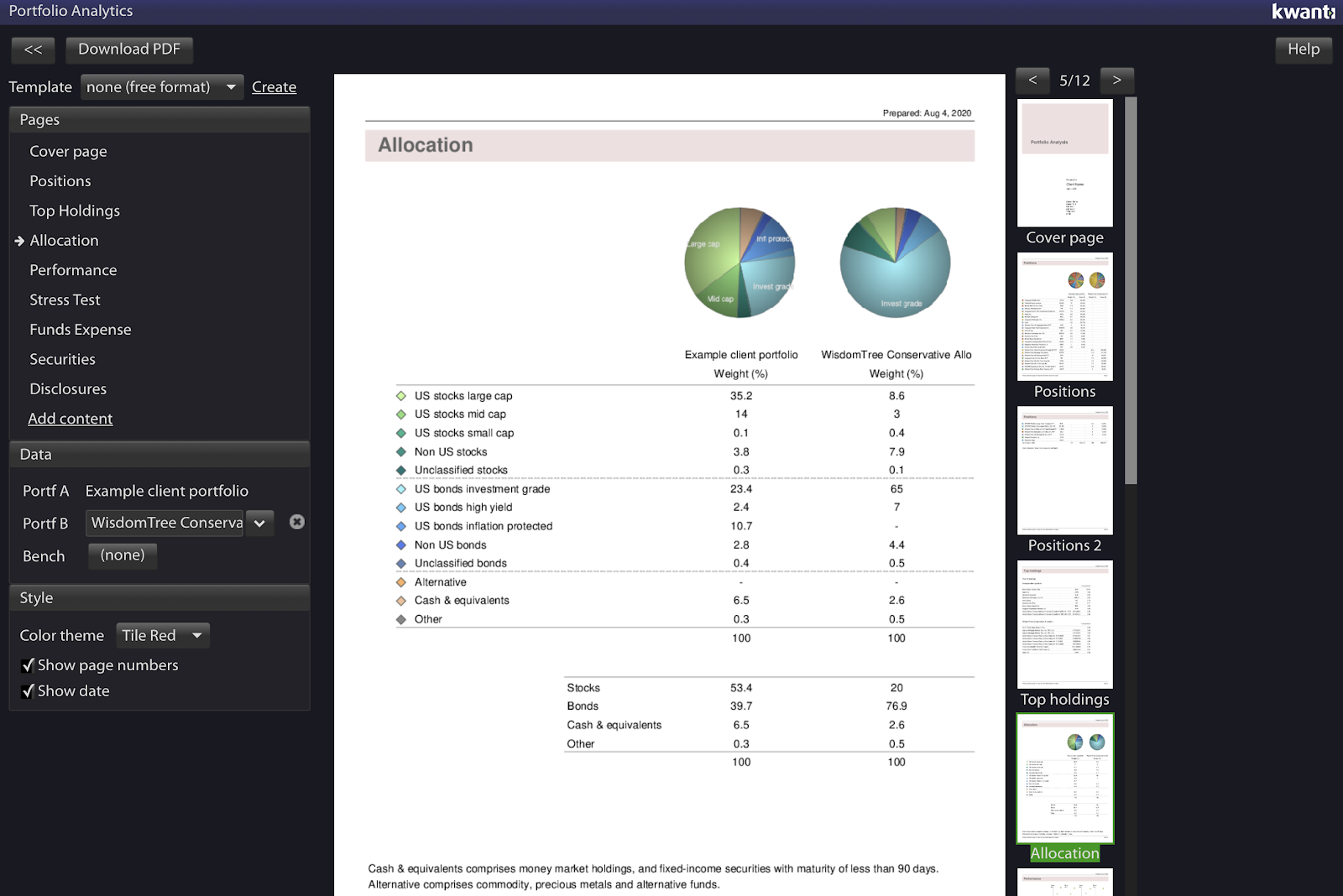 For even more customization, you can also add an additional benchmark.
Branding Your Reports
As the primary source of financial advice for your clients, it's important to put your name and logo in front of them in every communication. That extends to your reports as well.
We help you maintain consistency across your client communications with the ability to self style Kwanti reports to your brand's colors.
You can select a pre-selected color from the dropdown menu, or enter your firm's Hex code to customize to your exact primary color. The cover page and all section headers will update to match.
If you need to add custom disclosures or additional commentary, simply add a Custom Text page to provide your clients with any information they need to make well-reasoned decisions from your expert analysis. 
Not a Kwanti user? Click here to start a free trial and start creating your own custom reports to use in client and prospect meetings.