If you're like most advisors today, you likely see a lot of client portfolios composed primarily of mutual funds or ETFs. You probably even manage portfolios like those yourself.
Creating a portfolio built on these types of pooled investment vehicles is an efficient way for investors to invest, gain sector exposure, and diversify their investments.
But there's also a hidden risk of investing in these types of funds. They can make a portfolio appear to be more diverse than it actually is if the same asset is hidden in multiple positions.
Today we're taking a look at the all-new Holdings tab in Kwanti, which you can find under the Allocation menu. This new feature gives you X-ray vision into your mutual funds and ETFs so you can quickly and easily see where a portfolio may hold the same asset in multiple positions. 
Here's how to access it and why it's useful.
Getting Started with the New Holdings Feature
After you select a portfolio and click the Allocation tab, you'll now see a new sub-menu called Holdings.
The top holdings in a portfolio are listed by weighting by default, but you can adjust the sorting behavior by simply clicking on a column header.
The amount of times an asset is held in a portfolio is shown in the Overlap column. Right away, you'll know if an asset is being held in multiple positions or not. 
When you see an asset with a number higher than one, click on it to see the detailed breakdown on the right.
In our example, we can see that Apple (AAPL) is held three times in this particular sample portfolio. It's been purchased directly, and also has small positions in the Vanguard Total Stock Market ETF (VTI), and the DFA Core Equity Fund (DFEOX).
For even more detailed analysis of each position, click on a line item on the right-side to see more detailed analysis. This is a quick way to see a position's price and return history, and risk and expense information.
By clicking on Describe at the top of the screen, you can also get a quick view into the position's top holdings as a whole.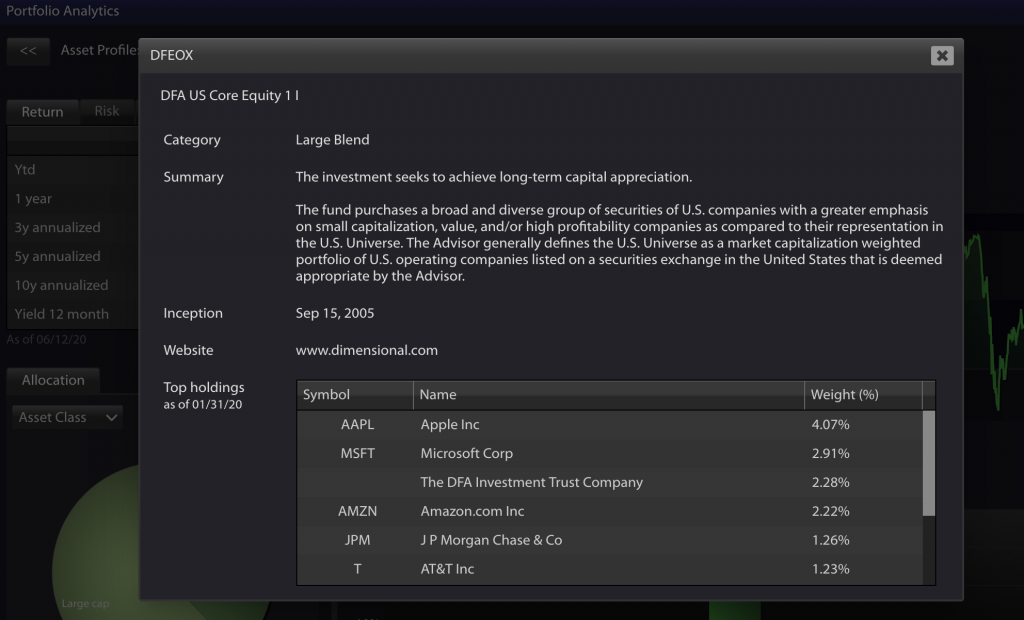 In addition to searching holdings within a selected portfolio, you can also search holdings across your entire database and also edit holding information from within PDF reports.
Search Full Holdings
Navigate to the Allocation tab, then select Holdings to access a search bar on the right side of your screen. From here, you can search holdings across portfolios.
Holdings Overlap in a PDF
When viewing a PDF report in Kwanti, click on the Holdings page to choose to show holdings overlap and include additional detailed information on your client reports.
How to Use the Holdings Feature in Your Portfolio Analysis
To provide the best financial advice to your clients, you need to know the level of diversification and amount of risk they carry.
But performing a top-line analysis of a portfolio's holding doesn't always give you the full picture.
By digging deeper and identifying where an asset is held in multiple positions, you can better determine when a client may be carrying additional risk they didn't even know about. A seemingly diverse portfolio can quickly become anything but.
The new Holdings analysis gives you a quick way to know that you have your clients invested in the right way, and you can provide better recommendations as a result.
If you're a Kwanti subscriber, you can log into the platform right now to try it out.
Not a subscriber yet? Sign up for your free 14-day trial to get started and get access to all of our portfolio analysis features immediately.