Nothing is more important than protecting your time.
According to some studies, most advisors don't spend the majority of their time interacting with clients and prospects.
Wouldn't it be nice to improve that?
One way that we're helping advisors reclaim their time is by integrating with the wealth management industry's best companies, so you can least strike manual, back-office tasks like data entry off your to-do list.
In today's blog, we're covering how we integrate with Folio Institutional to improve your processes for running analysis on the accounts you custody there.
Who is Folio Institutional?
Founded in 2000 by a former SEC commissioner, Folio Institutional provides comprehensive brokerage and custody services that include a model exchange, tax optimization tools, an advisor dashboard, and additional business management solutions.
Click here to visit Folio's website to learn more about all the services they offer.
How Folio and Kwanti Help Advisors Deliver Efficient Advice
Kwanti has integrations with all the leading custodians that wealth managers trust to custody client assets, including Folio Institutional.
It's essential that the analytics system you use integrates with your custodian so you can work with accurate portfolio information instead of spending your time uploading the latest positions. Instead, our integration lets you get right to analysis and making critical decisions without wasting time on data entry.
Here are three other benefits you'll enjoy from connecting your Folio Institutional accounts to Kwanti.
Stay Current
When you set up a data sync between Kwanti and Folio, you get the confidence of knowing that your client data will always be current and that your decisions are based on accurate information.
Deliver Efficient Advice
Your clients want answers fast, and you can deliver them when your Folio data is automatically syncing to Kwanti. Use your time wisely by focusing on portfolio analysis, and then moving onto the next step, which is to deliver your recommendations back to your clients so they can take action and move closer to their goals.
Quantify Portfolio Decisions
Great analysis should be backed up by quantitative metrics and not just gut feel. When you use Kwanti to quantify your advice, you can show clients how each asset plays a unique role in supporting their financial goals and truly showcase the expertise and value you bring to the relationship.
How to Enable the Kwanti Integration with Folio Institutional
As you've come to expect with all the other integrations that Kwanti offers, setup of the Folio Institutional integration is a no-hassle experience.
Here's what you need to do.
Step 1: Email Folio Institutional
Send an email to support@folioinstitutional.com with the subject line "Attn: Data Feeds."
Folio will send you further instructions to complete the connection.
Step 2: Choose Accounts to Sync
Once the connection is active, you simply need to choose which accounts you want to sync.
Navigate to the Import menu on Kwanti's main screen, select an account, and click Import. We'll handle the rest to begin importing positions.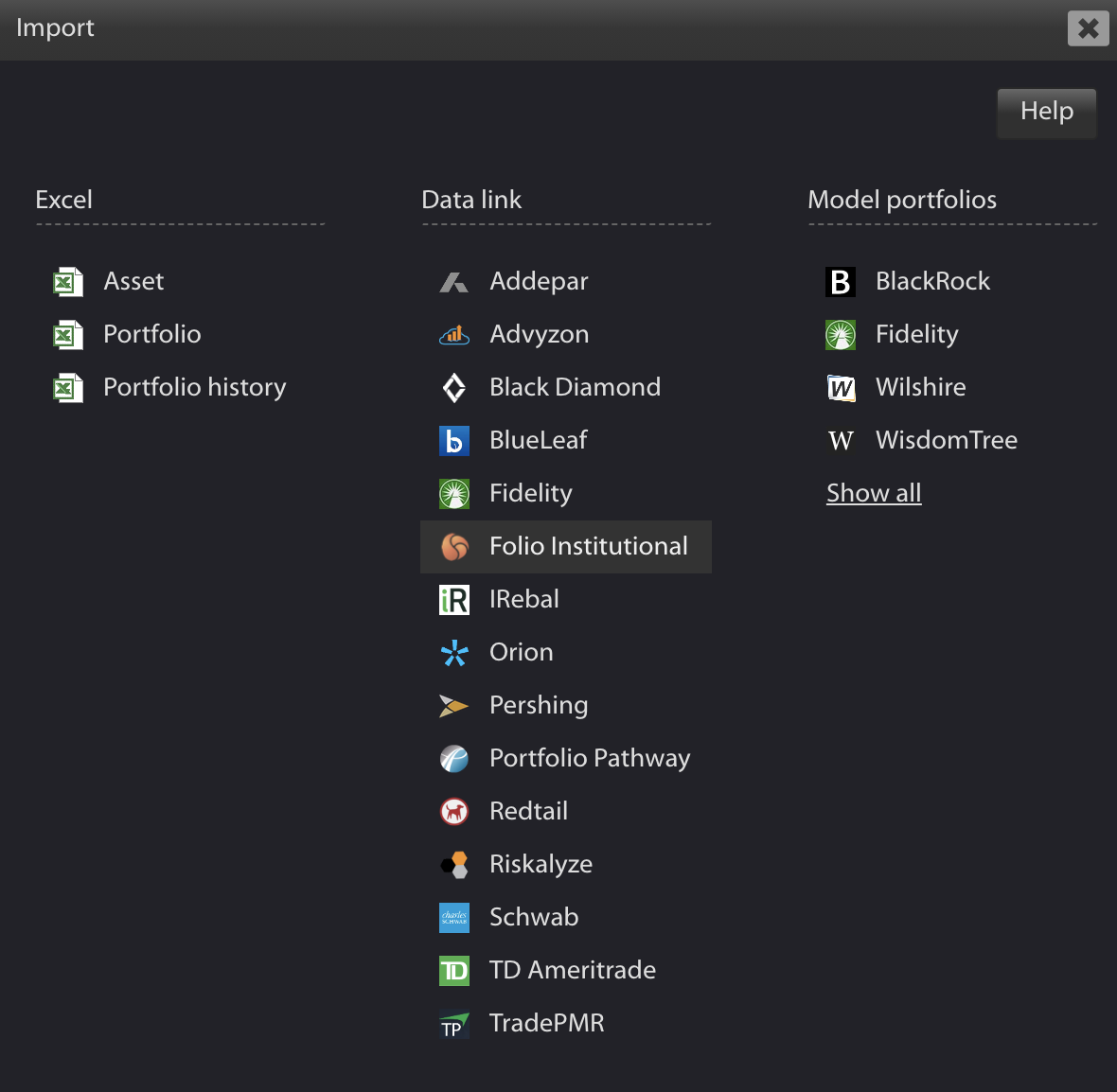 If you want to combine positions for multiple accounts into a single portfolio in Kwanti, all you need to do is select multiple accounts at once.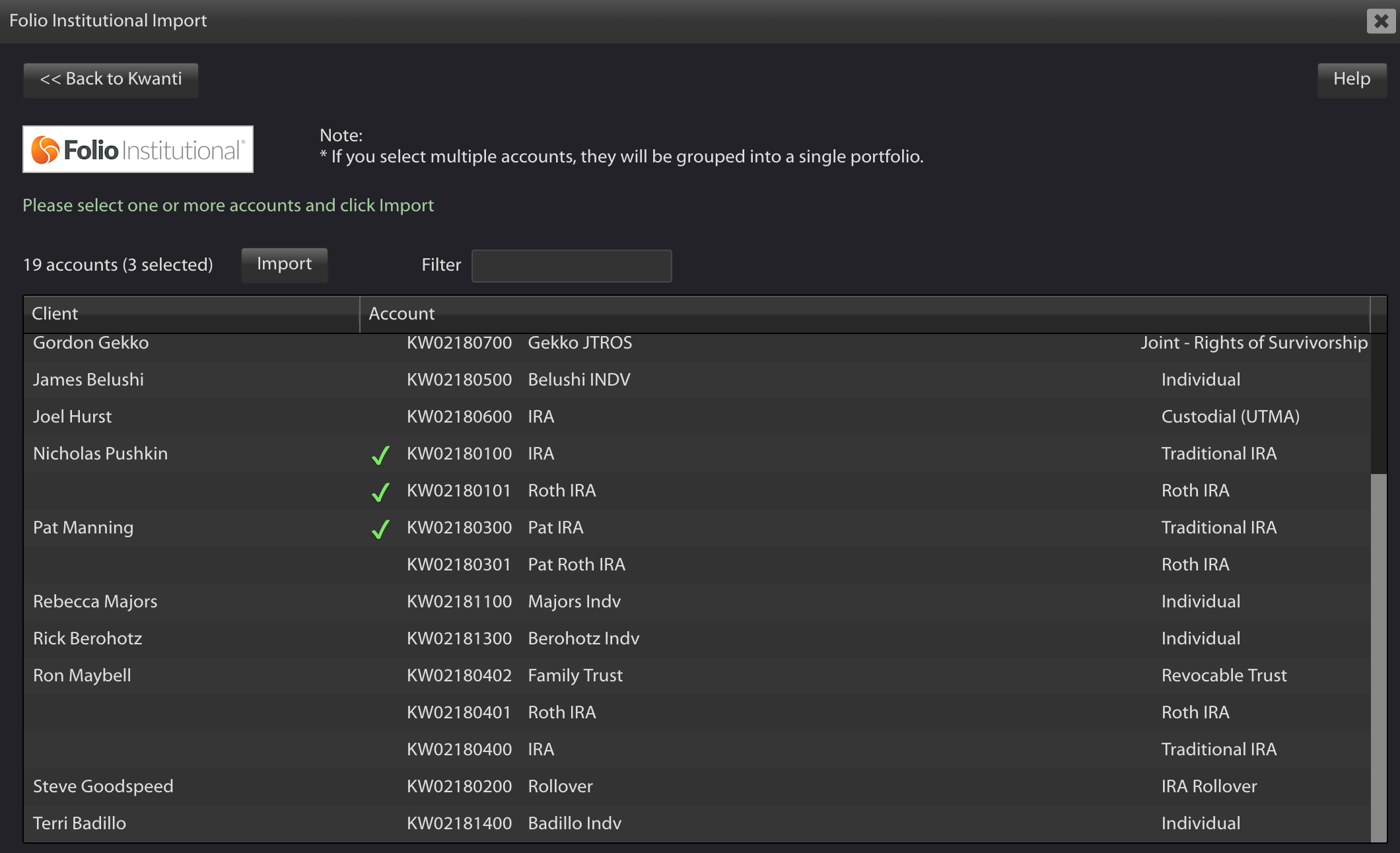 Every day after that, Folio will sync new position data to Kwanti automatically at 8 a.m. EST with information from the previous day's close.
For current Kwanti users, there is no additional cost to use the integration. Just sign in to your account and get started.

If you're not a Kwanti user, click here to start a free trial and see how all of our integrations can make your days more productive.

Folio Institutional and Kwanti are separate, unaffiliated companies and they are not responsible for each other's services and products.