TD Ameritrade Institutional /
Kwanti


Integration

Kwanti is integrated with TD Ameritrade Institutional's Veo® platform. With Kwanti for Veo, advisors can seamlessly access their clients' Veo account data in Kwanti for detailed analytics and customized client reports.
* TD Ameritrade, Inc. and Kwanti are separate, unaffiliated companies and they are not responsible for each other's services and products. Veo Integrated is an indication of programming compatibility. It does not imply any TD Ameritrade, Inc. endorsement of, warranty of, or fitness for use of Kwanti's products or services. TD Ameritrade is not responsible for information, opinions or services provided by Kwanti. Brokerage services provided exclusively by TD Ameritrade, Inc., member FINRA/SIPC. Veo is a trademark of TD Ameritrade, Inc. TD Ameritrade is a trademark jointly owned by TD Ameritrade IP Company, Inc. and The Toronto-Dominion Bank. Used with permission. All rights reserved.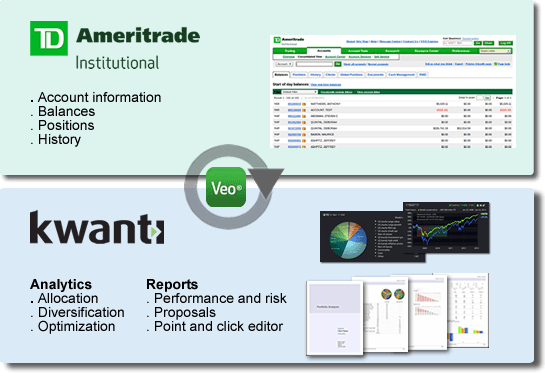 Sign up for a free demo or get in touch with our top of the line customer support team.
Fill out the form to send us a direct message