Managing investment portfolios is both an art and a science. 
To make smart, efficient portfolio decisions, you need access to robust data and tools to help uncover relevant insights and trends. 
And to build positive client experiences, you need access to reporting that helps turn that data into easy-to-understand visuals.
The problem is that technologies that specialize in portfolio analytics are often standalone services—meaning you have to manually transition valuable client data across platforms. 

Not anymore. Advisors can now access Kwanti's powerful portfolio analytics engine within their Orion Advisor Tech platform.
Here's what you need to know about the new integration. 
Who is Orion Advisor Tech? 
Orion Advisor Tech is a financial technology firm that provides a wide spectrum of solutions to advisory businesses, from marketing and financial planning to portfolio accounting and reporting. 
Click here to learn more about Orion Advisor Tech's platform. 
Portfolio Analytics Options Available Through The Kwanti and Orion Advisor Tech Integration
Through the Kwanti integration, advisors can apply comprehensive portfolio analytics to any portfolio in their Orion platform.
Once the integration is activated, advisors can easily search client accounts and portfolios, which can be seamlessly sourced into the Kwanti analytics environment. Multiple accounts can even be added at once, as a household, for greater efficiency.
After being selected, the client account data is securely synced from Orion into Kwanti, where advisors gain access to a robust portfolio analytics engine.
Deep Portfolio Insight
Gain complete transparency into your portfolios, with the ability to analyze allocation data such as asset class segmentation, sector exposure, stock and bond styles, and stock regions at the click of a button.
Drill into the portfolio deeper, with risk metrics, and identify how each holding contributes to risk of the overall portfolio. And further, analyze how holdings are correlated to each other for a more comprehensive view of diversification. 
And we all know cost is at the top of every client's mind. Through Kwanti, you can view the net expense ratio of every asset within the portfolio, making it easy to monitor and manage portfolio expenses.
Hypothetical Performance Scenarios and Stress Testing
Build hypothetical performance scenarios for your models, with full control over rebalancing frequencies and advisory fees. You can adjust backtesting time frames easily, and break down performance by time periods to understand how portfolios might react across various market conditions. 
And for a more focused review of how your portfolios will hold up in challenging times, you can conduct stress tests through specific market events, such as the 2008 financial crisis. 
Client Reporting
Managing your portfolios with greater insight and efficiency is great, but that work isn't maximized until it's demonstrated to your clients. 
Through Kwanti, you can build and deliver well-designed visuals through a connected reporting module. And the reports are customized seamlessly. Each data point available in the Kwanti analytics engine can be showcased through the reporting module. Simply select the desired data point(s) from a menu, and watch the report generate. 
You can also adjust chart layouts, as well as contact information, logo, and disclosure text as needed.
How to Enable the Kwanti Integration Through Orion
Kwanti can be enabled through your Orion account in just two steps. 
Step 1 – Initiate the Integration
Navigate to https://app.kwanti.com/integration/orion and select "Activate" to initiate the Orion single sign on menu.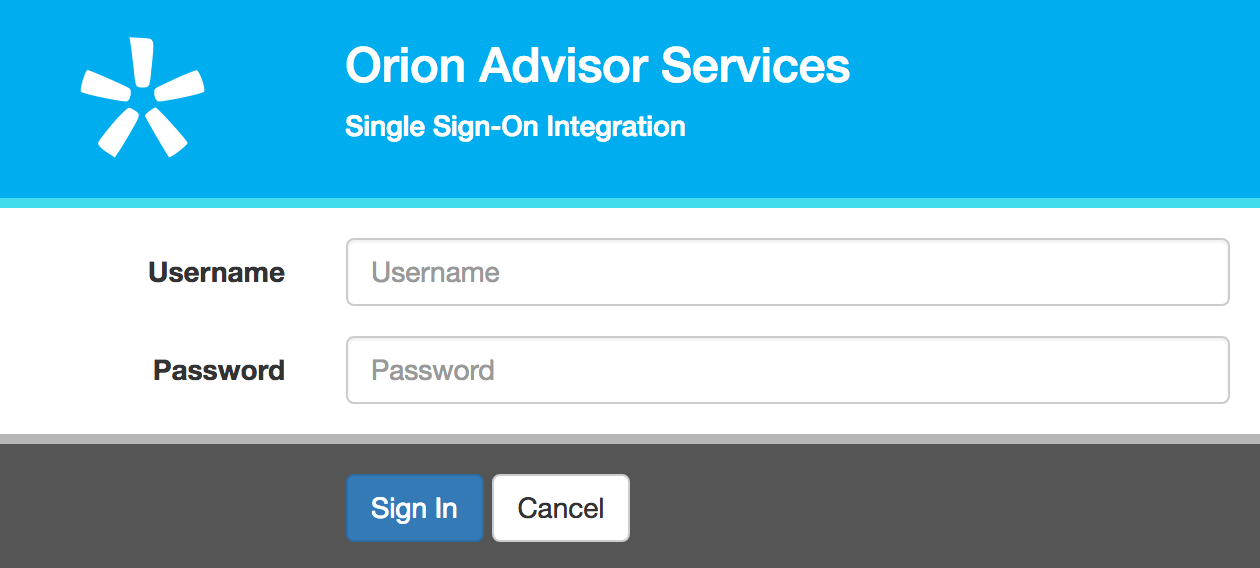 Step 2 – Sign Into Your Orion Account
Input your Orion login credentials to sync the two platforms. You will only have to do this only once. 
Once integrated you will be ready to import your portfolios from Orion into the Kwanti portfolio analytics environment. 
Select the "Import" action menu (through Kwanti), and choose Orion.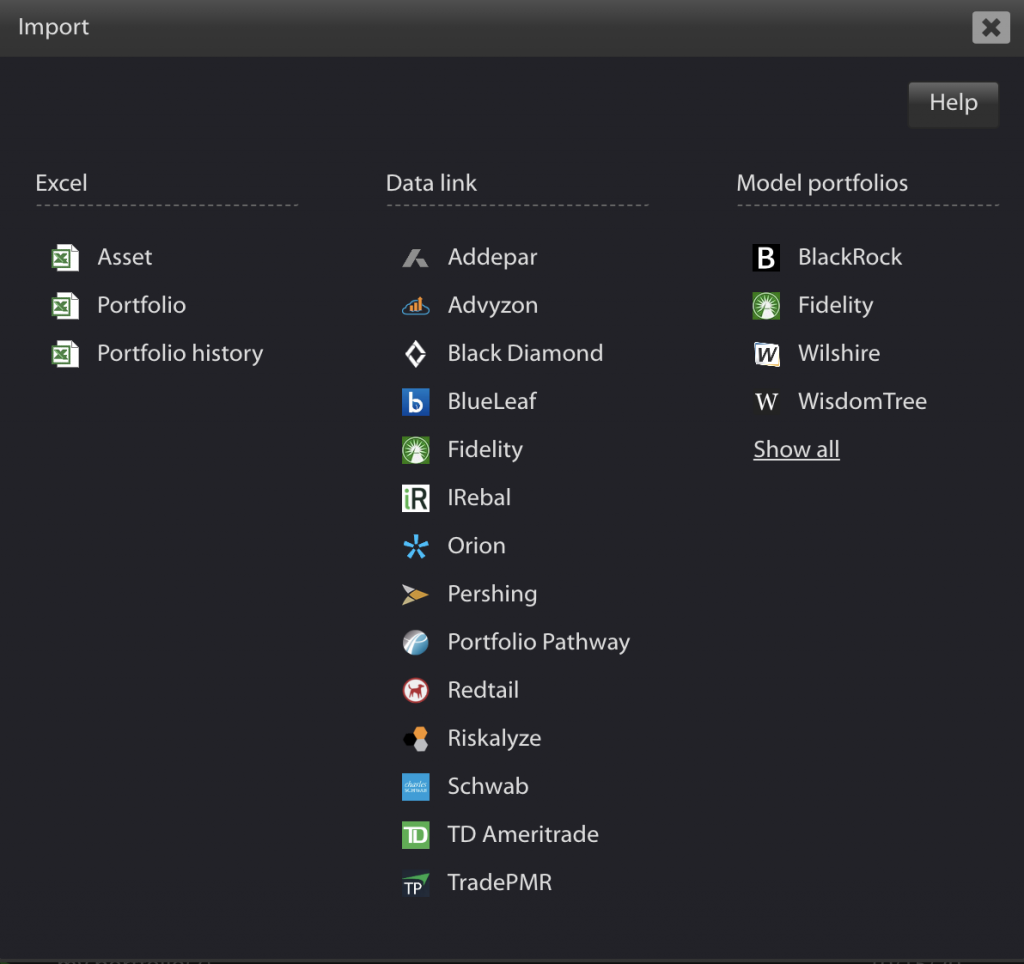 You will then be able to search and sync client accounts and portfolios. You can add them in bulk, or as you go.
Orion data synced with Kwanti will be updated nightly, ensuring consistent access to up-to-date portfolio data. 
How to Add Kwanti as an App in Orion Connect
For even greater convenience, you can set up Kwanti as an app within your Orion Connect home screen. This will allow you to launch Kwanti from within Orion, without having to re-enter your credentials. 
To set up the app, navigate to your Orion Connect dashboard and click on the Kwanti app. If you cannot see the app, use the search menu. Click on the Kwanti app icon, and enter your Kwanti credentials as prompted. You will only need to verify your credentials once.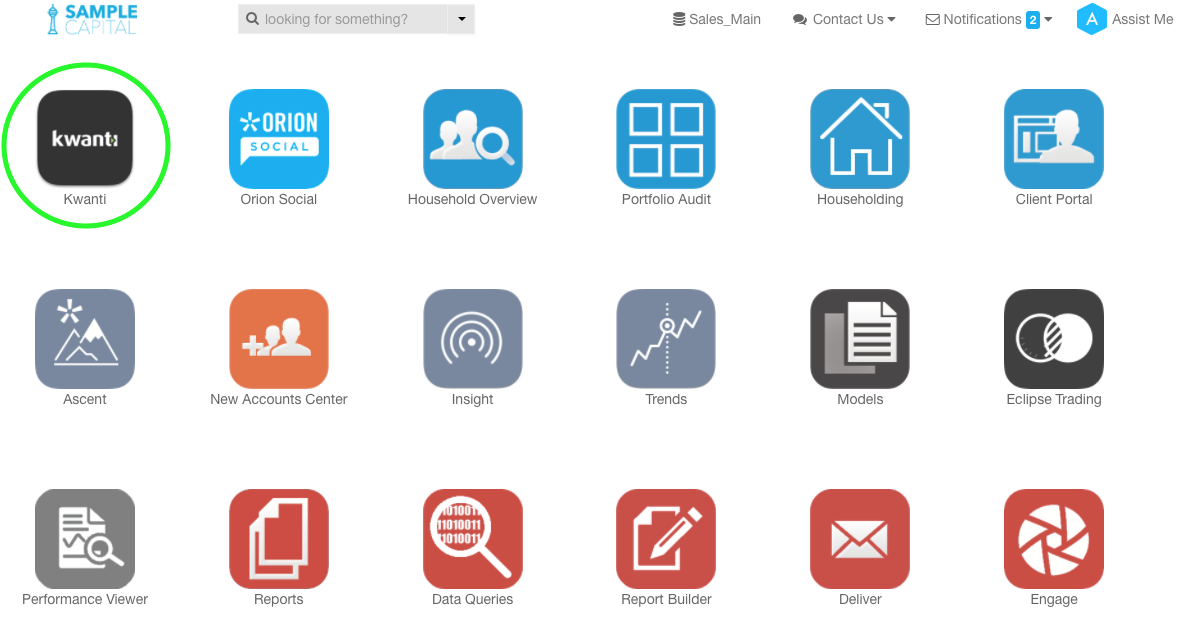 For current Kwanti and Orion Advisor Tech users, there is no additional cost to use the integration. Just sign in to your account and get started. 

If you're not a Kwanti user, click here to start a free trial and see how all of our integrations can make your days more productive. 

Orion Advisor Tech and Kwanti are separate, unaffiliated companies and they are not responsible for each other's services and products.