Did you know that you can access a robust selection of institutional-quality model portfolios right from within Kwanti?
Today, we're excited to announce that we've added WisdomTree to our model marketplace. WisdomTree model portfolios are completely free to advisors to use.
When you use the Kwanti model marketplace, you can expand the investment solutions you offer to clients without increasing the time it takes to create new strategies. As more of the wealth management industry moves toward a focus on financial planning, a unique and robust model selection process can help you show your value and set you apart from other advisory firms.
In this article, we'll give you the details about which WisdomTree models are available, and how to start using them immediately. 
Check out the details below.
Who is WisdomTree?
WisdomTree is a New-York based asset manager founded in 2006. The company is one of the largest ETF issuers in the world and pioneered the concept of fundamentally weighted ETFs. WisdomTree strategies provide investors with the potential for income, performance, diversification and other advantages through proprietary methodologies, smart structures or uncommon access.
You can learn more about WisdomTree here.
Which WisdomTree Models Are Available in Kwanti?
The Kwanti model marketplace now features nine models from WisdomTree, including:
WisdomTree Core Equity

WisdomTree Fixed Income

WisdomTree Aggressive Allocation

WisdomTree Moderate Allocation

WisdomTree Conservative Allocation

WisdomTree Endowment Model Portfolio – Moderately Aggressive

Global Multi-Asset Income Aggressive Allocation

Global Multi-Asset Income Moderate Allocation

Global Multi-Asset Income Conservative Allocation
Each model can be automatically imported and synchronized when you activate the WisdomTree integration. And if you missed it the first time, there is no cost to your firm to subscribe to and use any of these models.
How to Load Your WisdomTree Models
WisdomTree models are available to any advisory firm that subscribes to Kwanti. 
Follow these simple steps to activate the integration.
Step 1:
In the Kwanti application, click Import and select WisdomTree.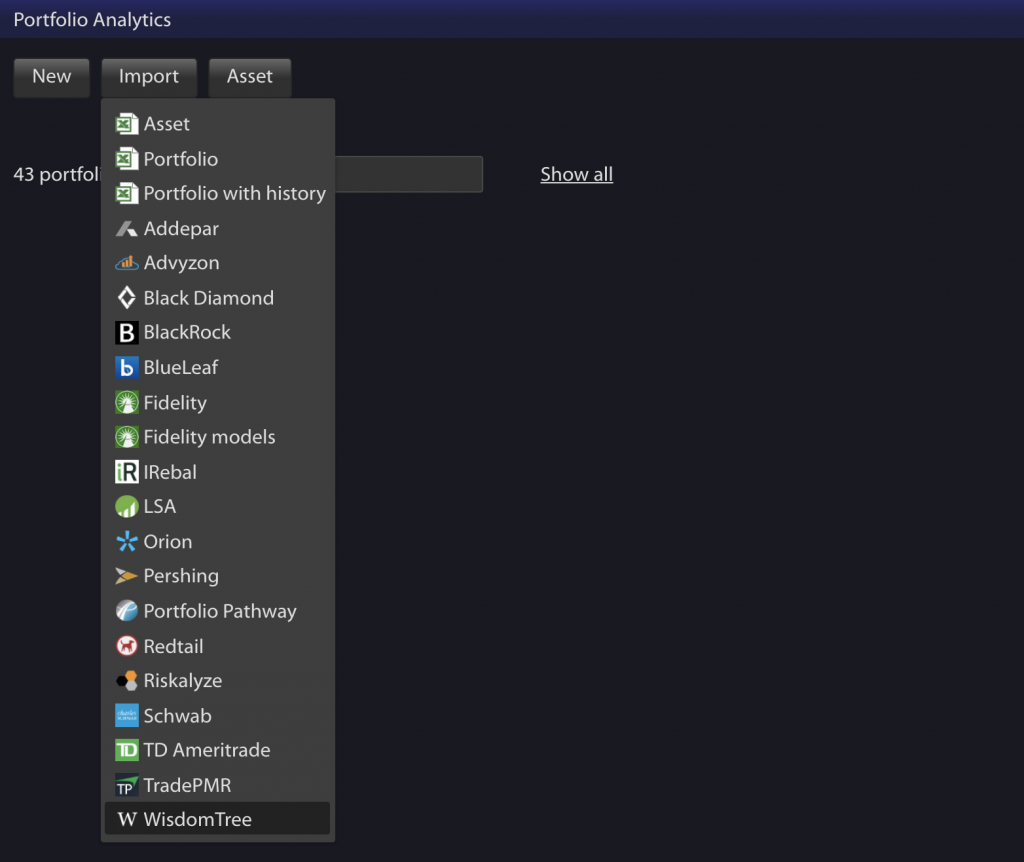 Step 2:
Read and acknowledge WisdomTree models terms of use (you only need to do this once).
Step 3:
Click on the models you want to import into your portfolio list and then click Save.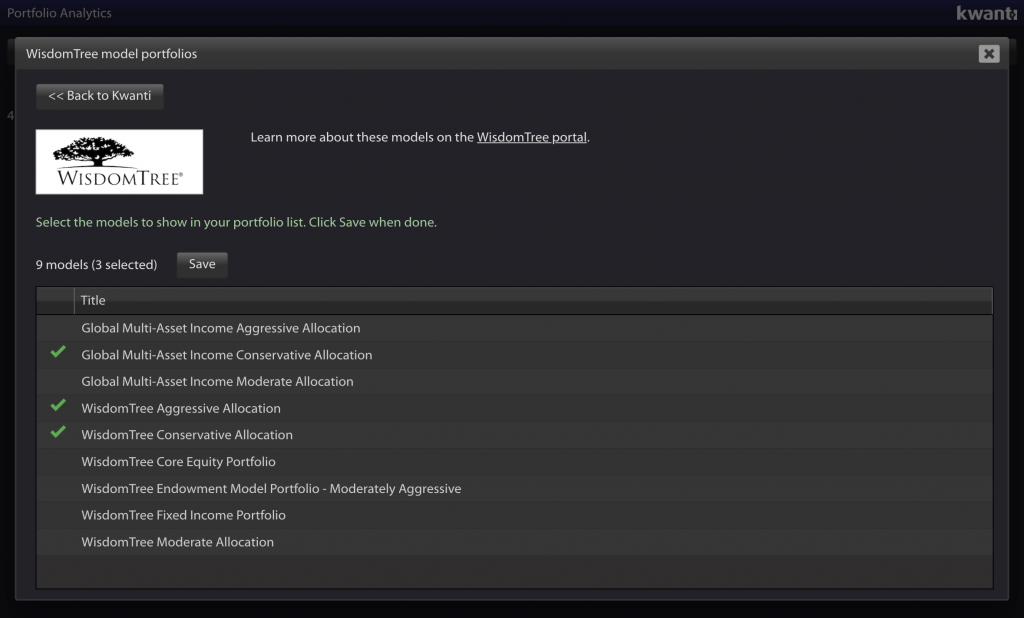 That's it! Your models are now available in the portfolio list and ready to be assigned to accounts.
Whenever you add a model from the Kwanti model marketplace, it will be viewable in your complete model portfolios list. You can then assign the model to any account as long as you remain a Kwanti subscriber.
If you're a Kwanti user already, sign in here to get started and get started with adding WisdomTree models to your collection right away.
Not a Kwanti user? Click here to start a free trial and see how our model marketplace can enhance your ability to find the right strategy for each client portfolio.