Do your clients really understand their investments?
If you use model portfolios, your client knows that they're invested in your Global Multi-Asset model, but the investment education shouldn't stop there.
In a recent survey, investors ranked two concerns at the top of their list of what they want to talk about with their financial advisor: Investments, and income during retirement.
You can easily engage clients in conversations about their investments, and give them the deep knowledge they want, when you use Kwanti's portfolio analytics tools.
Here's a guide for how to use Kwanti to discover the income generated by a portfolio so you can help clients plan for a confident income stream in retirement.
How to Help Clients Plan for Income in Retirement with Kwanti
We prioritize making it easy to find what you want. So when you click on any portfolio in Kwanti, you can find an income analysis easily too—just click on the Income tab to get started.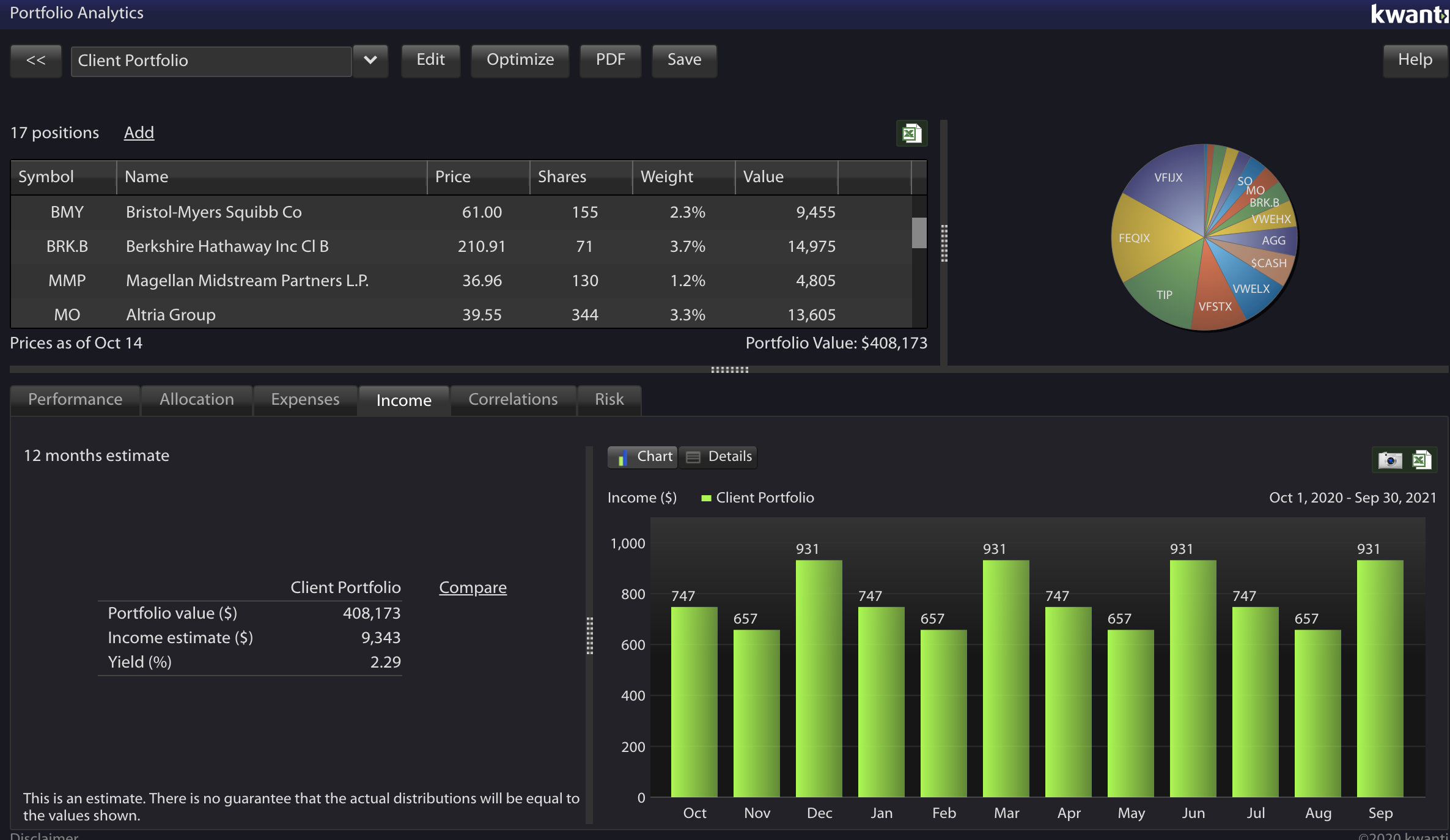 The top of the screen shows you all the information you need about your current portfolio, and the bottom of the screen gives you the details you can use to communicate accurately and confidently with clients.
By default, you'll see income as a chart with real dollar amounts associated with each asset. You can also view yield percentages and more by switching to Details for a table view.
We show real dollars because percentages don't have the same behavioral impact; when you deal with the real dollar amount a client can expect to make from their portfolio, they're able to envision how they'll use that money for their lifestyle and budget.
Comparing Retirement Income Between Different Portfolios
Sometimes, you may want to move a client to a new portfolio to help them better achieve their goals, or you might be preparing a proposal for a new prospect.
In both cases, being able to compare expected annual income between different portfolios can make your case much easier to make.
Simply click the "Compare" button to choose a new portfolio and see both side by side.
Making Income Information Accessible for Clients
While you'll use Kwanti for your detailed analysis, you probably won't be showing the platform to your clients.
We've made it simple to get the right information out of Kwanti and into your client's hands.
You have multiple reporting options.
Option 1: Export an image
Click the camera icon to export a jpg image of the chart you're viewing into Kwanti. This is an excellent option if you create a custom proposal and want to add compelling visuals to your presentation.
Option 2: Export to a spreadsheet
Some clients might love more visuals, others might want to focus in on the details with a spreadsheet view. Or, you might even want to do more analysis of your own in Excel. When that scenario comes up, you can export any table from Kwanti using the Excel button.
Option 3: Use Kwanti's Reports
You don't have to build your own reports, because we've got the pre-built options you need to quickly create a client-friendly PDF to use in your next meeting.
Click PDF at the top of the screen to get started, and then select "Add Content" under the Pages menu to find the Estimated Income report.
You can click directly on the screen to make any edits you want, and then download the PDF. You can go from beginning a report to done with that report in minutes or less.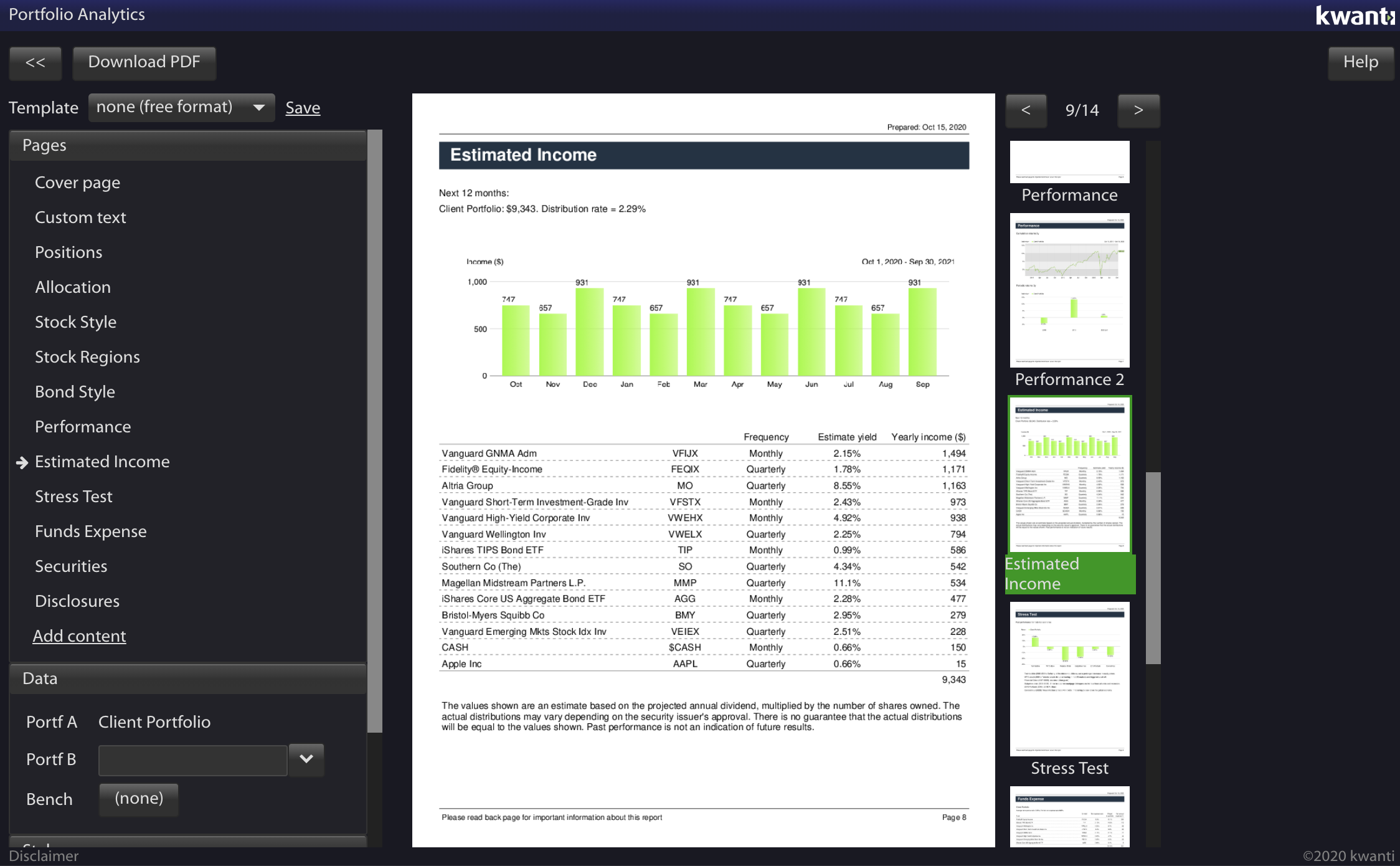 No matter if you're a planning-first advisor or an investment-first advisor, your clients want and need you to talk about their investments with them.
You can quickly find the information you need, and easily use your analysis to provide financial education to your clients with Kwanti's tools.

Try the Kwanti platform for yourself, risk free. Click here to start a free 30 day trial.