You've always been able to use Kwanti to analyze the details to find hidden truths in mutual funds, ETFs, stocks, and fixed income holdings, and today we're expanding your investment world.
Starting right now, you can get portfolio analytics on the Separately Managed Accounts (SMAs) your firm uses.
If you currently use an SMA, or your firm is considering it, you'll want to read on to discover how you can easily incorporate SMA analysis into your analytics process.
What is an SMA?
If an investment professional, we're sure you're familiar with SMAs, but let's take a brief moment to define them.
An SMA is an investment account that's managed by a professional money manager. It directly holds the stocks and other assets, unlike an ETF, which bundles the asset ownership for anyone who's invested in the product.
If you're an advisor who's been considering SMAs in your firm, the main advantage is the ability to outsource at least some part of your investment management to another professional. That ability to outsource gives financial advisors the time to prospect, meet with clients, or otherwise on the business instead of investments.
And now, you can analyze how the various SMA managers you may be using are performing when you log into Kwanti.
Why We're Adding SMA Analysis
SMA analysis has been one of our most requested features and we're thrilled that we can bring this type of data to you now.
Our SMA data feeds include information on more than 10,000 SMAs. The feeds provide you with all the same data points you've come to expect when analyzing mutual funds and ETFs.
You'll be able to pull up an SMA from the data feed list and get right to comparing its level of risk, asset allocations, and performance returns against your other portfolios in no time at all.
SMA analysis isn't limited to those who already subscribe to a professional money manager. If you're considering adding SMAs to your firm so you can take advantage of more robust investment methodologies, you can use Kwanti's analysis tools to compare the SMA you're considering to your current portfolio lineup.
In addition to enhanced analytics, you can give yourself the ability to make more informed business decisions for you and your clients.
Analyzing SMAs in Kwanti
It's easy and fast to get started with SMA analysis.
Once the ability has been turned on for your database, you can find SMAs in the Asset Finder, right alongside mutual funds, ETFs, and stocks.

The analysis tools available in Kwanti do not include individual holdings analysis for the assets held within an SMA. (Learn more about Holdings X-Ray analysis in Kwanti here.)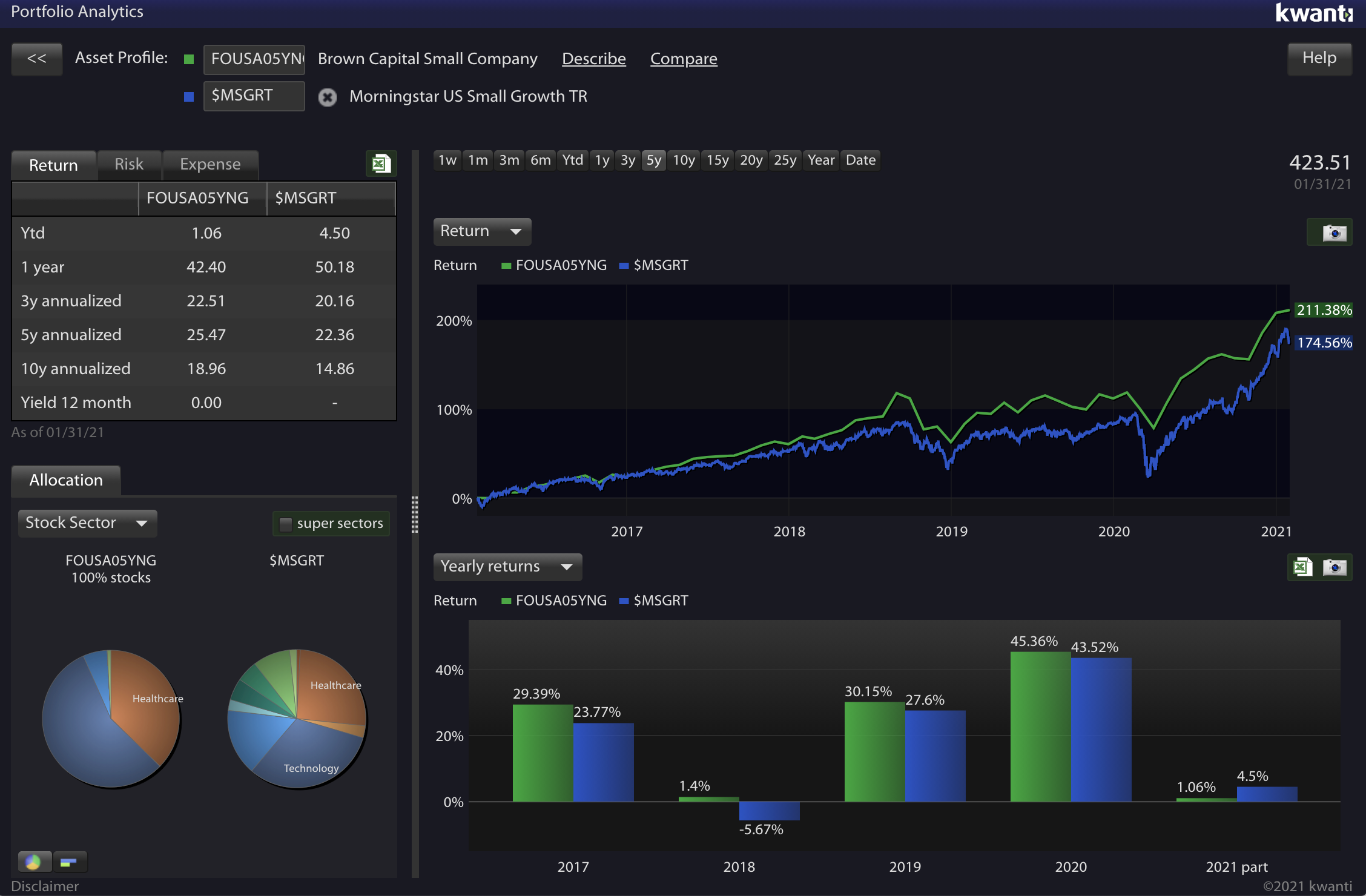 In most cases, an SMA does not make their holdings publicly available. However, that does not in any way affect the level of analysis and tools you can use when reviewing the SMA as a whole.
Get started with SMA analysis in Kwanti right away. Add this feature to your account for only $75 a month.
Click here to contact Kwanti support to add SMA analysis today.